As a dog-friendly Estate in Shropshire, we're passionate about ensuring that both owners and dogs have an unforgettable stay at Marrington*. Whilst travelling with a pet can come with challenges, we have compiled our top tips to make sure you and your best pal both get to enjoy a magical time away from home.
*Please note a supplement of £50 per pet, per week or part week, applies at the time of booking.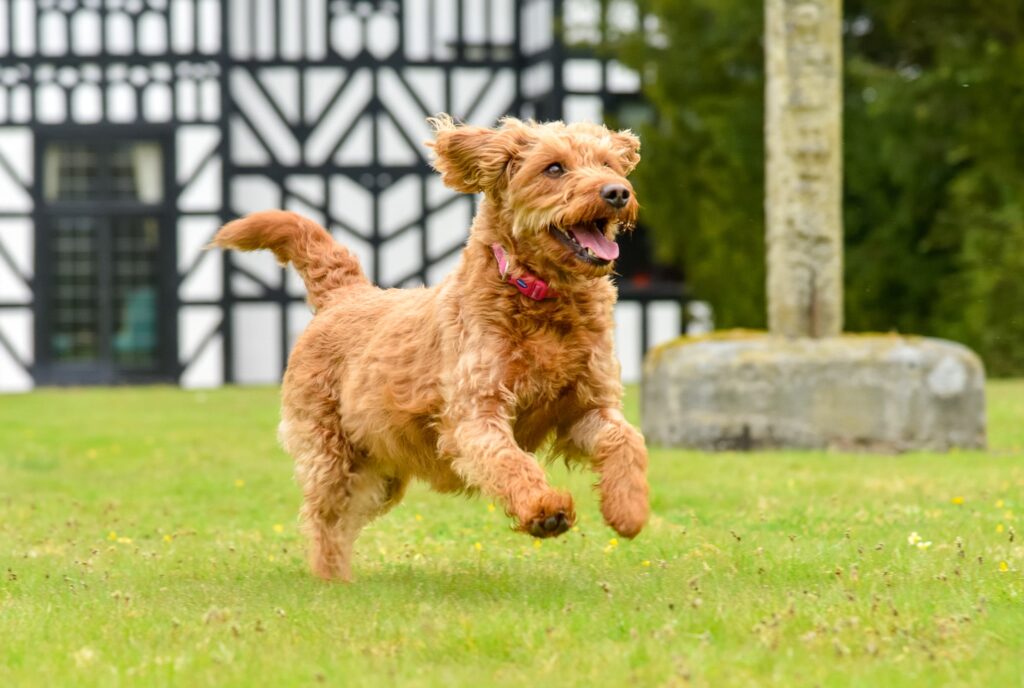 Stay and play time
Dog friendly accommodation is more than just allowing dogs into the property, it's about creating a truly dog-friendly experience. We are proud to be a dog-friendly Estate that ensures that our four-legged guests have just as great time as you.
Each of our properties have plenty of lawns and outdoor spaces for running around, plus private access to much of the 800-acre grounds. Some gardens are fenced in, others are more open, so please check with our team when booking your dog in.
There are miles of well-signposted woodland walks across the estate. Our maintenance team have even built dog friendly stiles on many of the footpaths to for easy walking and exploring.
Clean paws all round
After an exciting day exploring woodland trails, finding sticks and cooling off with a dip in the river, you'll find an outside tap to help clean those muddy paws.
Once inside, we ask that dogs remain downstairs at all our properties.
Pack essentials for a real home from home
A staycation will likely bring many new experiences for dogs, and they won't know how long their new environment will last. By taking a minute to pack some of your dog-friendly essentials, you'll help your dog feel more settled on their holiday.
Our tried and tested essentials are their own bed (filled with comfort smells from home), their usual food, their collar with ID tag, their lead and their favourite toy.
Make sure medical details are up to date
Preparing for a staycation is a great opportunity to ensure that all of their details and medications are up to date. Whilst we hope it never happens, it could make a vital difference if something went wrong. Ensure that you have your dog first-aid kit that includes any medication, and check that your dog's microchip is updated with your latest address.
If you do need a vet during your stay, a list of local and recommended vets can be found in our guest welcome pack.
Paw friendly pubs
When you're exploring the picturesque countryside making new memories with your four-legged friend, why not head to one of our favourite dog-friendly pubs in South Shropshire. If you're planning a stay at Marrington Escapes with your dog, please read our Canine Code of Conduct.